Features
1. Adopts an exquisite ABS plastic enclosure.
2. Two clolors available (white and black).
3. Rainproof and dustproof.
4. Equipped with a high quality audio player.
5. Equipped with a PIR motion sensor to trigger audio playback, and the detection range is up to 8 meters.
6. Equipped with a 4-bead strobe LED light bar.
7. Built-in 4400mAH rechargeable lithium battery.
8. Can be connected with an external solar panel.
9. Plays back an audio file from the inserted USB stick or the internal flash memory after each activation from the PIR sensor.
10. Built-in 4MB SPI flash memory by default, and able to update audio files via USB stick.
11. Supports two work modes: all repeat mode and single repeat mode.
12. Built-in 20W class D amplifier and the sound output is loud and beautiful.
13. An IR remote control comes with the device.
14. Solid and durable. Easy to install.
Technical Parameters
1. Power Input: 12V DC
2. Working Current: 2000mA
3. Standby State ≤10mA
4. Playing State ≤800mA
5. Audio Format: MP3/ WAV
6. Audio Output Power: 8Ω/20W
7. Detection Range: ≤8m (120°angle)
8. Sound Level: ≤120dB
9. Protection Class: IP45

Main Applications
1. To prompt passers-by at major intersections.
2. To warn visitors at forest fire protection areas.
3. To play back important messages at amusement grounds (pleasure grounds), parks, squares, and so on.
4. To prompt visitors to wear masks in outdoor public areas.
5. To remind workers to pay attention to construction safety at construction sites.
Two Colors Optional

Dimensions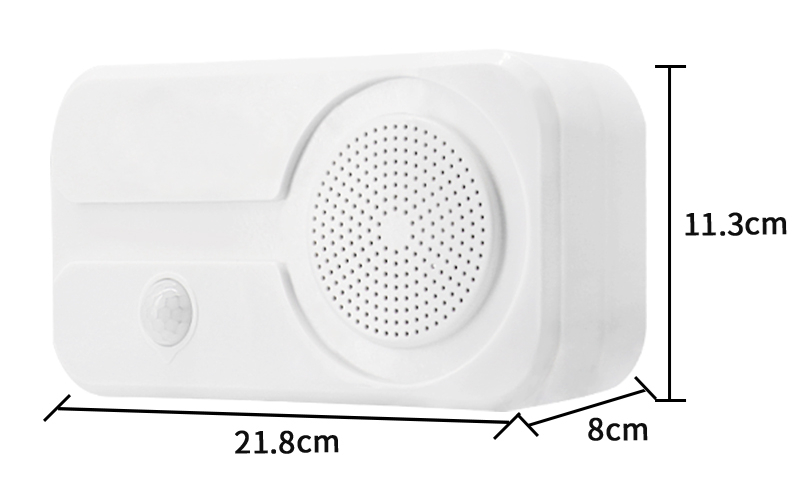 Example of Application